At SEIS Consult, we will look after your specific queries and offer advise on Specialised Environmental & Industrial Services. Don't hesitate to give us a call, drop an email or contact via LinkedIn when you are interested and / or would like to discuss any of the below listed services. We will make time and arrange a meet and greet and enjoy a nice coffee.
Chemical Decontamination and Degassing (liquid phase and vapour phase)
Pre-commissioning Services

Commissioning & Start up

Catalyst Services

Pipe line Services - incl. all pigging services and DDT

Hydrocarbon recovery

Sludge Reduction / Sludge Pond Cleaning

Project Management
Chemical Cleaning
Chemical Cleaning is a common practice these days to clean your plant equipment. This can be done item specific or in closed loop systems to clean the whole plant. The application of acid and alkaline treatments provide an effective alternative to mechanical cleaning resulting in the removal of persistent scale and other deposits in those difficult to reach plant locations. The acid and alkaline based products clean surfaces deep into the pores, leaving no surface contamination, while carefully selected inhibitors and continuous monitoring ensures preservation of the base material. Chemical cleaning is a fast and (cost) efficient way to clean your plant with controlled waste production.
Inhibited acid and alkaline cleaning products are extremely effective for cleaning furnace tubes (internal and external), process pipelines, cooling water systems, external surface preparation and stainless steel metal pickling and passivating.
In summary, Chemical Cleaning will:
Restore Thermal Efficiency

Restore flow

Ensure Safety

Maintain Performance

Prevent Untimely Release of Deposits

Prevent Under-deposit Activity

Provide substrate for corrosion inhibition

Improve Production Rates

Decrease Maintenance Costs

Reduce CAPEX

Increase Efficiency




Chemical decontamination and degassing
Today's shutdowns are driven by efficiency: cost reduction, back in production as soon as possible and uninterrupted production until the next scheduled shutdown are the key criteria. Hence it can be said that the importance of clean can't be overstated. Contaminants are always accumulating in petrochemical systems. In order to prevent the toxic and flammable conditions that can lead to accidents, they must be completely removed.

When the stakes are this high, it's important to find a solution that meets the above criteria. In the past, refiners looked to a variety of answers, from HPW and vacuum cleaning services, to (hot) nitrogen purges, to caustic detergents. The cleaning wasn't thorough enough and often left the customer with a hazardous situation, such as flash fires, large amounts of VOC's, and pyrophoric scaling. Then there was also the waste disposal problem. The environment suffered, and hazards remained.

In the nineties of previous century, some industrial services companies understood the consequences of the "old school techniques" and started to develop (environmental friendly) decontamination and degassing chemicals. This was the beginning of a new era where the challenges of today can't be answered by yesterday's solutions.

With almost 2 decades of degassing and decontamination experience and over 100 projects actively executed and connections globally, SEIS Consult feels comfortable supporting you to find the solution that suits best to your system / plant cleaning requirements. We have a global access to an innovative array of proprietary chemistries designed to meet your goals.

The chemicals are primarily designed to achieve one or all of the following depending on the operational parameters of the process equipment.
Increase safety for personnel and site
Reduce Benzene Levels Below 0.1 ppm
Zero Volatile Hydrocarbon Content
Reduce Hydrogen Sulphide Levels
Reduce Ammonia Levels
Reduce Mercaptanes
Reduce / deactivate Pyrophoric Iron Deposits
Reduce Paraffin and Asphalt Crude's and Deposits
Reduce the Need for Mechanical Cleaning
Aids in the Cleaning and Removal of Coke and Carbonized Deposits
Improves Oil Recovery
Decrease Shut Down Time compared to tradition cleaning up to 50–75%
With Chemical Decontamination / Degassing also the waste / wastewater problem has been reduced. During the cleaning operation, a limited quantity of water is required for circulation of the chemicals. After the cleaning, the wastewater is containing the chemicals and the hydrocarbons left in the system, and is now good to get disposed to the slops tank(s). A post flush of the system with fresh water is hardly containing chemicals nor hydrocarbons and can be disposed of to the WWTP. All of this means that off-site disposal is no longer required resulting in a cost saving.


Nitrogen Services
SEIS Consult realises that the turnaround philosophy over the last 25 year in order to provide a dynamic quality service that can minimise shutdown / turn-around time has been changed dramatically. Nitrogen Services is part of that change and SEIS consult can guide you through the possibilities and application opportunities.
We have an extensive track record with major Tier 1 on- and offshore companies, refineries and chemical plants in Australia, New Zealand, Europe and Middle East providing a wide variety of technical solutions and services to a very high level of satisfaction.
SEIS Consult can advise you on:
Nitrogen Services, general info
Gaseous Nitrogen or Liquid Nitrogen
Nitrogen Membrane units
Liquid Nitrogen pumping units
Nitrogen / Helium Leak Testing
Nitrogen Purging
Cool down / Accelerated cooldown
Nitrogen Pressure Testing / Pneumatic strength testing
Drying (Air / Nitrogen / Vacuum)
Inertising with Nitrogen foam
Pipe freezing
Project documents: Risk analyses (JSEA) and Application Procedures


Gas Recompression
Reducing your carbon footprint?

Think about Gas recompression!
Valid for all natural gas transfer operations
Transfer natural gas from one system or pipeline to another at discharge pressure of up to 70 bar and minimum inlet pressure of 0 - 7 bar depending on configuration
The latest generation gas compressors allow this service to be greatly enhanced, increasing the recovery volumes, whilst minimizing transfer time
Gas transfer service is divided into two types of operation :

High Pressure  (HP) Compression
Low Pressure (LP) Compression

Definition

High pressure transfer is an operation where the donor and recipient system has pressure between 30 bar & 100 bar.

High Pressure (HP) Transfer Overview

In normal operations the line pressure is reduced to a minimum by the operator.  Typically around 50 bar.  In the past the operator would vent or/and flare the residual gas.
Nowadays high pressure compressor package enables the operator to further reduce their line pressure to typically 10-12 bar.  The compressor discharge is usually transferred to another pipeline trunk up to 70 bar maximum discharge
This service has enabled the operator to recover the gas, which allowed them to minimise contractual gas loss penalties and reduce environmental impact
This service is primarily used for the evacuation of pipelines and systems to enable maintenance and provide enhanced gas recovery over and above the clients own capability

Low Pressure (LP) Transfer Overview

Efficient pipeline evacuation for pressure below 30 bar.
Technology is available that will provide an efficient method of reducing the pipeline pressure to 0 barg
For use where the feed and recipient system pressure is less than 30 bar
Where discharge pressure in excess of 30 bar is required, the LP compressors can be used as pre-boosters to feed HP compressor units providing discharge pressures of up to 100 bar
Typical applications are the evacuation of both transport and distribution network pipelines
Key benefits
Until 5-10 years ago, the "old generation" gas transfer equipment is still available in the market today has driven operators to vent or flare the residual pipeline gas (7 -10 bar or greater). 
This situation leaves a negative impact on both the corporate image and the environment. 
New Generation gas transfer equipment is available to avoid the above
The key benefits for any operator of enhanced gas transfer are:
Economic benefit
The value of the gas now has a greater economic influence on whether to transfer or vent the gas.
This level of financial incentive has not been available to operators to date
This provides a significant cost saving on a resource that was previously wasted
Environmental benefit
Environmentally 1 tonne of CH4 is equivalent to 21 tonnes of CO2e
Ever reducing global emission allocations drive the necessity to reduce CO2e emissions. 
Total Gas transfer service will help to achieve and improve upon emissions targets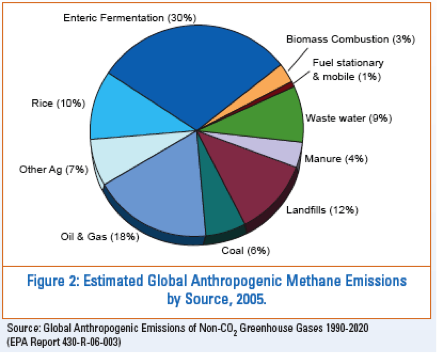 Non-man-entry Tank Cleaning technologies
Management of storage tanks has become a complex challenge for refineries and terminal operators. The need to utilise capacity more efficiently, more frequent product changes, and stricter environmental regulations puts increasing pressure on operators to increase productivity together with decreased safety risks, downtime and maintenance costs. We are fully aware that manual cleaning of crude or heavy feedstock storage tanks is out dated and can be replaced with modern and state of art techniques / technologies. We can advise on the various specialised tank cleaning and maintenance services available to manage these situations. The technology of choice can be made after considerable evaluation of local situation, historical experience, technical and logistical limitations, etc... To Facilitate the selection process we have developed a cleaning technology selection matrix. Technologies can be of a chemical or mechanical nature. Minimally invasive and modern techniques and technologies as well as automated, mobile processes avoid harm to humans and the environment and form the basis for flexible solutions to different requirements.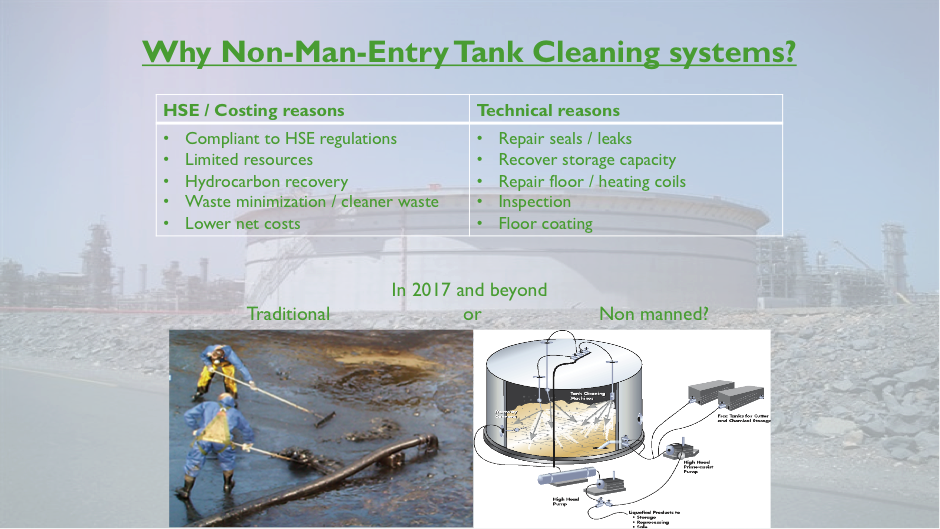 REFINERY SLUDGE MINIMISATION by HIGH TEMPERATURE THERMAL DESORPTION
Refinery operations produce large amounts of waste sludge, both oily and biological, which eventually must be dealt with. The disposal methods favoured vary from country to country and include landfill and land farming and both on and off-site treatment / incineration.
Implementation of nation's Environmental legislation, particularly relating to landfill and the control of emissions, encourages the minimisation of waste in order to reduce the environmental impact of disposal procedures. In addition, disposal costs to the producer are continuously increasing resulting in further incentive to evaluate alternative approaches to current practices.

On-site Centrifuging and Thermal Desorption Plants could be a solution to the sludge / oily waste within refineries. The background of practical experience enables us to advise a proven and cost-effective solution to the treatment and disposal of refinery waste sludge.

OBJECTIVES
On-site high temperature thermal desorption equipment fulfils the following objectives:
effective environmental emissions compliance
minimisation of hazardous waste
recovery of hydrocarbons
production of an inert final product
on-site processing of waste
High temperature thermal desorption achieves this as follows;
Using centrifugation processes alone, the weight and volume reductions obtained are insufficient to optimise the economics of final disposal in a waste site.High temperature thermal desorption results in a further significant waste minimisation, and the final product is an inert waste.
High temperature thermal desorption is a physical process during which virtually all the water and hydrocarbons are evaporated, greatly reducing the volume of the end product.
With High Temperature Thermal Desorption, the hydrocarbons contained in refinery residues are recovered thereby reducing refinery product losses, and minimising hydrocarbon content of the final product.
The High Temperature Thermal Desorption process is non-destructive and uses indirect heating which eliminates production of undesirable combustion products. This ensures that the process complies with stringent air emissions requirements.
SCOPE OF WORK
We can support in the design, construction and operation of the CENTRIFUGATION and HIGH TEMPERATURE THERMAL DESORPTION plant in order to treat all of the waste oily and bio-sludge produced by the Refinery including:
Oily sludge from DAF's and API separators, tank and cleaning residues
Primary sludge from water treatment, mixed with biological sludge, tank drainage material
Other types of sludge from cleaning activities, tertiary treatment, emergency ponds etc.
In cooperation with the manufacturer we support the provision of a turnkey project for the design and construction of the Centrifugation and High Temperature Thermal Desorption Plant.

COST OF HIGH TEMPERATURE THERMAL DESORPTION SLUDGE TREATMENT
SEIS Consult can work out on a case by case basis the costs for the operation based on the sludge feed to the Centrifuge on a price per tonne basis.
Our experience with existing and proposed applications is that a Centrifugation and High Temperature Thermal Desorption approach is often more cost-effective than alternatives such as landfilling or incineration. This is because the High Temperature Thermal Desorption stage gives an additional dramatic volume reduction of the final product.

MASS BALANCE
Centrifuging operations will reduce the weight of the sludge to be treated four to five-fold. Oil recovery for the refinery at this stage is obviously dependent on the initial sludge characteristics and the effectiveness of the centrifugation process.
The High Temperature Thermal Desorption stage that follows provides a further five-fold reduction in waste volume generating a final dry inert powder product and has to be removed from site by a local waste handling company.
The vapour recovery system of the High Temperature Thermal Desorption unit also recovers for the Refinery additional hydrocarbons, which would normally be lost to incineration or landfill.





Feasibility Studies
As the name implies, a feasibility study is an analysis of the viability of an idea. The feasibility study focuses on helping answer the essential question of "should we proceed with the proposed project idea?" All activities of the study are directed toward helping answer this question.

Feasibility studies can be used in many ways but primarily focus on proposed business ventures. Anyone with a business idea should conduct a feasibility study to determine the viability of their idea before proceeding with the development of a business. Determining early that a business idea will not work saves time, money and frustrations later. A feasible business venture is one where the business will generate adequate cash-flow and profits, withstand the risks it will encounter, remain viable in the long-term and meet the goals of the founders. The venture can be either a start-up business, a new enterprise for an existing business, the purchase of an existing business, an expansion of current business operations, either by entering a new market area or implementation of new technologies. We will provide you guidance on how to proceed with the study and what to include or we can take it out of your hands and execute the study for you. Stage - Gate is part of the process and in general we will follow the following steps:
Evaluate Alternatives
Pre-Feasibility Study
Market Assessment
Results and Conclusions
Go/No-Go Decision
Feasibility Study vs. Business Plan
Reasons Given Not to Do a Feasibility Study
Reasons to Do a Feasibility Study


SEIS Consult Pty Ltd

Pine Mountain, QLD 4306, Australia

Phone +61 (0) 400 363 829

Email: info@seisconsult.com

© 2017 SEIS Consult

ABN: 67 632 447 262

ACN: 632 447 262

Terms of use / Privacy Policy / Site Map

Find us on LinkedIn